All Images and Design Copyright 2003-2012 - Jon Bell




Hot Rod Design by Jon Bell
Car drawings done of your Hot rod or concepts.
Accurate illustration so you know how your project will look.
Check out the Reno Arch cruising posters! $9.99 each
"Dreams and Memories" is an e-book with over 60 articles and 75 illustrations about hot rods and customs. Designed to read on your computer, phone or e-book reader in PDF or EPUB formats. Download for $1.99.
"Crusin' Reno" prints are scenes of 1960's Reno locations.
Payments with your credit card are secure through PayPal.
CLICK ON IMAGES FOR ORDERING INFO OR TO SEE OTHER VERSIONS OF ART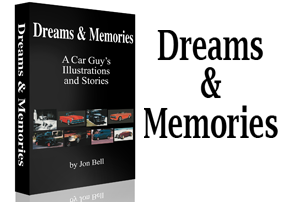 Click on images
to see more!